Tour Krabi, Krabi Tour, Day tour Krabi, Half day Tour Krabi, Excursions Krabi, all tours in Krabi
There are so many beautiful land caves and seas caves in phang-Nga and Krabi area. Jc.Tour had set up the special trip "Caves Visiting" by the most relaxing trip styles, canoe paddling. We used quite a long time to discover and inspect the most beautiful cave in the area near Phuket that can fulfill your holiday time to be perfect.

The following is the details and pictures of the route which we have set up, please see and read it before do the booking.
Relaxing as a soft paddling the canoe pass the local people Life on floating fish farms, mangrove safari and wild animals make you get admiring.
In Lord cave or Tham Lord is a giant sea tunnel in the mountain on the "Krabi bay" in the sea. We have to paddle the canoe through the tunnel.
Lagoon cave: It had the giant lagoon hidden in the mountain with a many wild life or monkeys stay around.
Big Head Ghost; it is the residence of the historical human; It can be proved that longer than 1,000 years ago by the pictures those were on the cave panel.
On the way between the caves; from the one cave to the other one is a great canoeing cruising for deep feeling into the nature around.
Wat Bang Reang, (Bang-Reang temple) The temple is on the mountain.
The Pagoda is called if with out the bone of the lord Buddha (Buddha Atthi) But if the Lord Buddha's bone is inside the pagoda, we call Prathath.

---
Why Jc.Tour?:
Jc.Tour had registered for Tourism Company under the rule of Thailand Law: Both Outbound(31/01235) for around the world travel. Inbound(34/00235) for traveling in Thailand.
The right registration can be checked, and you can check for Jc.Tour at http://www.tourism.go.th
Jc.Tour is the Top Responsible and Great Service in TripAdvisor Rank.
Jc.Tour has been registering for Accident Insurance all around the world (Inbound: for travelling in Thailand and Outbound for around the world travelling). This make sure that all the customer of JC Tour will be covered by Insurance in everywhere of the world they reached.
Before, During and After the service, you can contact us 24 hours.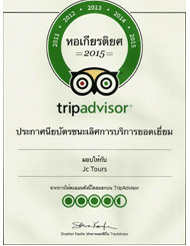 Telephone:
+66 89 5727603
Line: @jctour
Viber:
+66 84 8053153
Whatsapp:
+66 84 8053153
Snorkeling Trip
Canoeing & Cave Trip
Adventure Trip
Sightseeing Trip
Dinner Cruise
Transfer
Other Trip
2Days 1Nights Package
3Days 2Nights Package
4Days 3Nights Package