Tour Krabi, Krabi Tour, Day tour Krabi, Half day Tour Krabi, Excursions Krabi, all tours in Krabi
All-Terrain Vehicle: ATV. The ATV cars will be the same popular around the Asia-Thailand, Singapore, and Malaysia etc..- Because of ATV rider is the one of the funny thing to do. The fun will be stepped up by the route.

For the Southern of Thailand, the ATV route can be classified by:
The normal route: At the area of Phuket, Krabi or Khao Lak
The better route: Phang-Nga's area
The best ATV route: Song-Prak river's area. (The route will be passed river, safari, hard land of mountain and waterfall. It is considered to be the best climate green area of Thailand's Southern.
Jc.Tour has cooperated with the best ATV company to set up the 2 hours ATV ridding on the best route at "Song Prak river" If you are the ATV lovers and the one who has the adventure heart, this is the one you should not miss it.
The package will be putted 20 minutes extra for "explain and train" about the route trip before start.
We start by the class of the easiest, ride your All-Terrance Vehicle or ATV pass the safari route.
You have to use your full power with skill to pass the second class on clay and difficult route into deeper of safari.
Next step, you have to pass the Song-Prak river. One thing very difficult is that you have to balance your engines on the water. (You are unable to see the underwater condition)
The top class is that you must ride your ATV on the rock over the river and along the water safari.

---
Why Jc.Tour?:
Jc.Tour had registered for Tourism Company under the rule of Thailand Law: Both Outbound(31/01235) for around the world travel. Inbound(34/00235) for traveling in Thailand.
The right registration can be checked, and you can check for Jc.Tour at http://www.tourism.go.th
Jc.Tour is the Top Responsible and Great Service in TripAdvisor Rank.
Jc.Tour has been registering for Accident Insurance all around the world (Inbound: for travelling in Thailand and Outbound for around the world travelling). This make sure that all the customer of JC Tour will be covered by Insurance in everywhere of the world they reached.
Before, During and After the service, you can contact us 24 hours.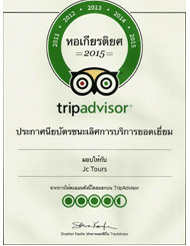 Telephone:
+66 89 5727603
Line: @jctour
Viber:
+66 84 8053153
Whatsapp:
+66 84 8053153
Snorkeling Trip
Canoeing & Cave Trip
Adventure Trip
Sightseeing Trip
Dinner Cruise
Transfer
Other Trip
2Days 1Nights Package
3Days 2Nights Package
4Days 3Nights Package