Tour Krabi, Krabi Tour, Day tour Krabi, Half day Tour Krabi, Excursions Krabi, all tours in Krabi
+ ATV Riding for 2 Hours

+ Tree Top Zip Line
ATV never cares about the road, it can pass every condition of land. But ATV needs a strong rider with a brave heart. We highly recommend this trip "2 Hours ATV ride" if you love to pass the difficult thing.
Being as the passenger if you are not sure for ridding, but if you like to get the full adventure, we recommend being the "Rider"
Zip line adventure is going to be very popular with tourists, because it is a mix between adventure and nature seeing at the same time.
Station to station: It can make you feel better. It was the system of adventure provided by the professional team under the highest safe system.
You can get relaxing and Leisure with the thick nature in the thick safari, after passing the highest adventure.

---
Why Jc.Tour?:
Jc.Tour had registered for Tourism Company under the rule of Thailand Law: Both Outbound(31/01235) for around the world travel. Inbound(34/00235) for traveling in Thailand.
The right registration can be checked, and you can check for Jc.Tour at http://www.tourism.go.th
Jc.Tour is the Top Responsible and Great Service in TripAdvisor Rank.
Jc.Tour has been registering for Accident Insurance all around the world (Inbound: for travelling in Thailand and Outbound for around the world travelling). This makes sure that all the customers of JC Tour will be covered by Insurance in everywhere of the world they reach.
Before, During and After the service, you can contact us 24 hours.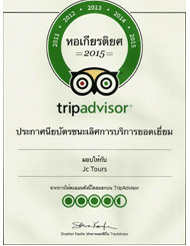 Telephone:
+66 89 5727603
Line: @jctour
Whatsapp:
+66 84 8053153
Snorkeling Trip
Canoeing & Cave Trip
Adventure Trip
Sightseeing Trip
Dinner Cruise
Transfer
Other Trip
2Days 1Nights Package
3Days 2Nights Package
4Days 3Nights Package