Tour Krabi, Krabi Tour, Day tour Krabi, Half day Tour Krabi, Excursions Krabi, all tours in Krabi
+ ATV Riding for 2 Hours

+ Tree Top Zip Line
ATV never cares about the road, it can pass every condition of land. But ATV needs a strong rider with a brave heart. We highly recommend this trip "2 Hours ATV ride" if you love to pass the difficult thing.
Being as the passenger if you are not sure for ridding, but if you like to get the full adventure, we recommend being the "Rider"
Zip line adventure is going to be very popular with tourists, because it is a mix between adventure and nature seeing at the same time.
Station to station: It can make you feel better. It was the system of adventure provided by the professional team under the highest safe system.
You can get relaxing and Leisure with the thick nature in the thick safari, after passing the highest adventure.
Programs :



08.30 AM
: Pick-up from hotel
: Take coffee and dessert before the event.
: Listen to the lecture and learn about ATV safety and driving fun.
: Most challenging in the field with mud, water, Logs Bridge, test the balance hill, riding along the mountain path.
: Learn how to make coconut sugar.
: Ride ATV back to the start point
: Lunch at  the local restaurant
: Ride ATV to Kerewong peat swamp forest, which will have many hurdles to emerge from the rock of the earth, ride through the mountains to climb, the rubber plantations, palm plantations.
: Then ride an ATV to "Tree Top Adventure Activities" and enjoy the game on a tree.
: After that, ride an ATV to Kerewong pond.
: Relax with a coffee and swimming.
: Then ride an ATV back to Ao-Luek Noi.
17.00 PM
: Back to Hotel
Remark: This program is subject to change without notice.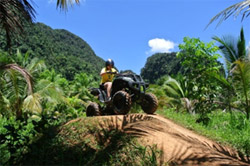 Tour includes:
Hotel transfer
ATV
Helmet, gloves, boots, glasses, dry bag
lunch, fruits, drinking water
local tour guide
English speaking guide
First Aid Kit
Entrance ticket
Accident insurance
Not including  ATV Damage.
What to bring:
Sun protection
Swimming suit
Camera
Sunglasses
Towels
The new clothes to change
---
Why Jc.Tour?:
Jc.Tour had registered for Tourism Company under the rule of Thailand Law: Both Outbound(31/01235) for around the world travel. Inbound(34/00235) for traveling in Thailand.
The right registration can be checked, and you can check for Jc.Tour at http://www.tourism.go.th
Jc.Tour is the Top Responsible and Great Service in TripAdvisor Rank.
Jc.Tour has been registering for Accident Insurance all around the world (Inbound: for travelling in Thailand and Outbound for around the world travelling). This makes sure that all the customers of JC Tour will be covered by Insurance in everywhere of the world they reach.
Before, During and After the service, you can contact us 24 hours.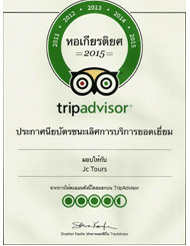 Telephone:
+66 89 5727603
Line: @jctour
Whatsapp:
+66 84 8053153
Snorkeling Trip
Canoeing & Cave Trip
Adventure Trip
Sightseeing Trip
Dinner Cruise
Transfer
Other Trip
2Days 1Nights Package
3Days 2Nights Package
4Days 3Nights Package