Tour Krabi, Krabi Tour, Day tour Krabi, Half day Tour Krabi, Excursions Krabi, all tours in Krabi
Klang Cave had been considered to be the most beautiful cave of Krabi. There are 12 beautiful Rooms in the cave; each of them was decorated by the nature in the difference style. Visiting Klang Cave makes you feel the magic of the nature design.

Elephant Trekking in "Song-Prak Natinal Park River" had been considered to be the best route of Elephant trekking. Elephant will take you into the thick real nature safari along the nature river.

In the area of 3 Andaman Provinces - Phuket, Phang Nga and Krabi, has only one waterfall which can be considered as the most beautiful "Waterfall. We called Ton Pariwath Waterfall.
Jc.Tour had collected all of those top interesting place to be one day tour Eco tour trip; which we can start the trip from Phuket, Phang Nga or Krabi. Please see the highlight pictures and detail of the trip and submit the booking.
Klang Cave or Tham Cave is located amid the nature of Tropical Safari. And now it had been conserved by the Tourism Authorities of Thailand. And the TAT had declared to be the one of Unseen Interesting place of Thailand.
There are 13 Rooms inside the main cave, being very admiring to discovery this mysterious cave for touring.
We do a mini safari trekking for seeking the wildlife and beautiful plantation in the National Park of Song Prak Safari.
Very beautiful waterfall and very clear water lake that you can swim or relaxing by walking to see the nature life around the waterfall.
The route of "Elephant Trekking" is at Song Park River can considered to be the best route of Elephant Trekking in Thailand's Southern.

---
Why Jc.Tour?:
Jc.Tour had registered for Tourism Company under the rule of Thailand Law: Both Outbound(31/01235) for around the world travel. Inbound(34/00235) for traveling in Thailand.
The right registration can be checked, and you can check for Jc.Tour at http://www.tourism.go.th
Jc.Tour is the Top Responsible and Great Service in TripAdvisor Rank.
Jc.Tour has been registering for Accident Insurance all around the world (Inbound: for travelling in Thailand and Outbound for around the world travelling). This make sure that all the customer of JC Tour will be covered by Insurance in everywhere of the world they reached.
Before, During and After the service, you can contact us 24 hours.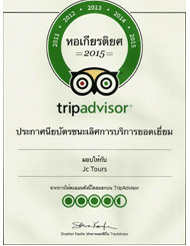 Telephone:
+66 89 5727603
Line: @jctour
Viber:
+66 84 8053153
Whatsapp:
+66 84 8053153
Snorkeling Trip
Canoeing & Cave Trip
Adventure Trip
Sightseeing Trip
Dinner Cruise
Transfer
Other Trip
2Days 1Nights Package
3Days 2Nights Package
4Days 3Nights Package