Tour Krabi, Krabi Tour, Day tour Krabi, Half day Tour Krabi, Excursions Krabi, all tours in Krabi
Khao Sok National park which is considered to be the most completed Thick Safari Park of Asia. This Real green National Park was consist wit 4 Parts;
Real large Thick Forest, it is the great place for every kind of wildlife, you can see so many safari mountain in Sok Safari.
Sok Mountain which consists with a lot of green hills around.
Sok River which snakes around the green hills and cliff covered by fog.
Sok Dam; It is the biggest dam of Thailand's Southern. This dam makes a giant fresh water lake with a hundred of Mountains Island on the Lake.
The above interesting 4 parts come to be the best Nature Park of the world. The great scenic of this nature has been agreed by all around the world tourist that It should be the number one destination tourism place which they should visit.

To see all the above part of this most interesting nature park, and avoid to wait and wait from the crowded tourist the package of
2 Days 1 Night Khoa Sok + Overnight on Floating Bungalow by Private is the one you are looking for.
Khao Sok: It is a mixing of Mountains, River, Lakes, Safari and Fogs.
In the package: we take you into the thick Safari by Elephant Trekking, in the deep forest, there is a nice small waterfall hidden inside and this waterfall is our top destination of trekking.
Tham Ta Hai: It is the mysterious Caves amid the thick wooden safari. We will never miss it to show you this unseen place on the Program.
In the program, you have a chance to discovery the Sok River by Canoeing. The river snakes around the Hills and pass so many highest Cliff wit fog and many wildlife are living in the safari near bank.
To touch the Greatest Lake of the Dam, we have to settle the "Floating Bungalow" for your overnight. Our resort is only one that bungalow with the Bathroom inside, and all night electric supply.
More deeply safari, and more deeply lake, we do the trekking pass the hill to the Giant Forest Lake, moreover, you can do bamboo rafting see the atmosphere of this hidden lake. Just you, water, safari and wildlife are having a moment in time together.

---
Why Jc.Tour?:
Jc.Tour had registered for Tourism Company under the rule of Thailand Law: Both Outbound(31/01235) for around the world travel. Inbound(34/00235) for traveling in Thailand.
The right registration can be checked, and you can check for Jc.Tour at http://www.tourism.go.th
Jc.Tour is the Top Responsible and Great Service in TripAdvisor Rank.
Jc.Tour has been registering for Accident Insurance all around the world (Inbound: for travelling in Thailand and Outbound for around the world travelling). This make sure that all the customer of JC Tour will be covered by Insurance in everywhere of the world they reached.
Before, During and After the service, you can contact us 24 hours.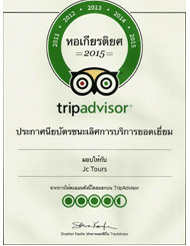 Telephone:
+66 89 5727603
Line: @jctour
Viber:
+66 84 8053153
Whatsapp:
+66 84 8053153
Snorkeling Trip
Canoeing & Cave Trip
Adventure Trip
Sightseeing Trip
Dinner Cruise
Transfer
Other Trip
2Days 1Nights Package
3Days 2Nights Package
4Days 3Nights Package