Tour Krabi, Krabi Tour, Day tour Krabi, Half day Tour Krabi, Excursions Krabi, all tours in Krabi
Jc.Tour Krabi had selected all the top interesting places around 3 provinces, Phuket, Krabi and Phang Nga, to be a nice day trip for every tourist both from Phuket or Krabi.

Before time caves (Big Head Ghost temple, lagoon cave and Thalu cave) are located in the area of Ao-Luk district of Krabi province. Those caves were proofed that they are the mysterious area since before time world.
Hong island (hong means room) is located on the Andaman sea. It looks like the giant nountain standing on the sea water. There are 4 bays on the island- the nature built every bays look like a room or Hong. Around of the island will be a very nice sandy beach and full of colorful coral reef with a million kinds of fish.

"If you are looking for the trips with a great place for canoeing adventure and a nice area for snorkeling, this package is it."

The bellowing is the detail of the programs and highlight pictures, could you please read and see it before submit the booking.
Hong island is the place for every "snorkeling lovers." It will be full of coral reef and million kinds of fishes. As well as the sandy beach is the most beautiful like a master piece of upper class artist.
At Hong island, you are able to do the snorkeling from the beach. Just around and near the beach, you can touch the fishes and coral reef.
The caves before time, the trip will show you 3 before history caves – Big Head Ghost cave, lagoon cave and Talu cave. The 3 caves were located away about 1 kilometer and likened together by the mangrove safari.
In the cave, you are able to see the clue of before historic human written the pictures on the cave's panel by the animal blood.

---
Why Jc.Tour?:
Jc.Tour had registered for Tourism Company under the rule of Thailand Law: Both Outbound(31/01235) for around the world travel. Inbound(34/00235) for traveling in Thailand.
The right registration can be checked, and you can check for Jc.Tour at http://www.tourism.go.th
Jc.Tour is the Top Responsible and Great Service in TripAdvisor Rank.
Jc.Tour has been registering for Accident Insurance all around the world (Inbound: for travelling in Thailand and Outbound for around the world travelling). This make sure that all the customer of JC Tour will be covered by Insurance in everywhere of the world they reached.
Before, During and After the service, you can contact us 24 hours.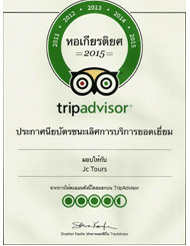 Telephone:
+66 89 5727603
Line: @jctour
Viber:
+66 84 8053153
Whatsapp:
+66 84 8053153
Snorkeling Trip
Canoeing & Cave Trip
Adventure Trip
Sightseeing Trip
Dinner Cruise
Transfer
Other Trip
2Days 1Nights Package
3Days 2Nights Package
4Days 3Nights Package