Tour Krabi, Krabi Tour, Day tour Krabi, Half day Tour Krabi, Excursions Krabi, all tours in Krabi
To discover Safari for finding out the beautiful nature takes time, that is why some people never like to go by joining a tour group because they need more time to discover without hurry.

2 Days 1 Nights Private Package is needed, then. Jc.Tour has chosen  the resort on the best classic location and best floating Bungalow on the lake.

Please see the high-light pictures and read the programs of this package and submit the booking.
Canoeing on the River is different from on the sea, by this you can see so many safari animals, Monkeys, Birds, Bats, Freshwater fishes, snakes etc.
Full of the experience of discovery into the deep thick Safari, you are unable to walk by your feet. Elephant Trekking at Kho-Sok (Sok Thick Mountain) can make you enjoy the safari and service your must.
Safari trekking on the completed Safari-Sok Mountain can make you feel adventurous  and fresh.
Cliff & River Resort on the sides of the Hills and River make you feel freshly every minute you're staying here.

---
Why Jc.Tour?:
Jc.Tour had registered for Tourism Company under the rule of Thailand Law: Both Outbound(31/01235) for around the world travel. Inbound(34/00235) for traveling in Thailand.
The right registration can be checked, and you can check for Jc.Tour at http://www.tourism.go.th
Jc.Tour is the Top Responsible and Great Service in TripAdvisor Rank.
Jc.Tour has been registering for Accident Insurance all around the world (Inbound: for travelling in Thailand and Outbound for around the world travelling). This makes sure that all the customers of JC Tour will be covered by Insurance in everywhere of the world they reach.
Before, During and After the service, you can contact us 24 hours.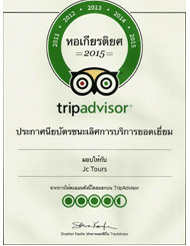 Telephone:
+66 89 5727603
Line: @jctour
Whatsapp:
+66 84 8053153
Snorkeling Trip
Canoeing & Cave Trip
Adventure Trip
Sightseeing Trip
Dinner Cruise
Transfer
Other Trip
2Days 1Nights Package
3Days 2Nights Package
4Days 3Nights Package