Tour Krabi, Krabi Tour, Day tour Krabi, Half day Tour Krabi, Excursions Krabi, all tours in Krabi
The trip for rafting must be always at the River amid the thick Safari and completed World's Nature. This trip is for the people who love to do the activities but at the same time they love to see and save the safari as well.

To see and play with the full atmosphere of "Thick Forest Nature", you must not miss this One.
If you are such a Nature Excursion Lover, this tour trip is the one you have been looking for. Just read all the details  of the Trip (To make sure that you have got the right one) and see the highlight pictures in the Package and submit the booking. Our staff will confirm you with a great adventure day right away.
"Song Prak Fast River" is in the middle of the rare nature safari, the fast of the stream water is at the Level 3-4 in some parts  and turned on to the level 5-6. Both sides of the river will cover by the completed Green of Thick Safari; it can be the heaven of both adventure lovers and nature lovers
Rafting at "Song-Prak River" you will get the feeling of both Touching Real Nature and Funny Extreme Rafting. The speed of the river is at the level of 3-4.
Elephant trekking in the Thick Forest can make you get closer to  nature and get full fun from the Safari Adventure.

---
Why Jc.Tour?:
Jc.Tour had registered for Tourism Company under the rule of Thailand Law: Both Outbound(31/01235) for around the world travel. Inbound(34/00235) for traveling in Thailand.
The right registration can be checked, and you can check for Jc.Tour at http://www.tourism.go.th
Jc.Tour is the Top Responsible and Great Service in TripAdvisor Rank.
Jc.Tour has been registering for Accident Insurance all around the world (Inbound: for travelling in Thailand and Outbound for around the world travelling). This makes sure that all the customers of JC Tour will be covered by Insurance in everywhere of the world they reach.
Before, During and After the service, you can contact us 24 hours.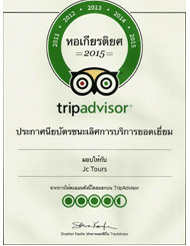 Telephone:
+66 89 5727603
Line: @jctour
Whatsapp:
+66 84 8053153
Snorkeling Trip
Canoeing & Cave Trip
Adventure Trip
Sightseeing Trip
Dinner Cruise
Transfer
Other Trip
2Days 1Nights Package
3Days 2Nights Package
4Days 3Nights Package