Tour Krabi, Krabi Tour, Day tour Krabi, Half day Tour Krabi, Excursions Krabi, all tours in Krabi
Living your life on the thick safari; it is about overnight with a tent + bonfire and having BBQ dinner under the candle light.

The camping trip offers a great classic feeling for safari living life-overnight amid the thick safari. However, the high value of the camping is depended on the location, camping equipment  and the private service staff on the site.

JC Tour Krabi had set up the camping package on the location we called "Khoa Sok." Khoa Sok is the biggest and completed nature forest of Asia. This forest is consistent with mountains & hills, cliffs, rivers, waterfalls and a variety of wildlife.
The location of camping: It is located at the point of mountain, cliff, river and safari meets. The resort area is connected to the river and the river connects to the cliff. All areas of the resort keep the thick safari to be a part of the resort's garden.

Our package will include 1 bungalow of the resort in case you may need to stay overnight in it instead of a tent after late at night. However, the tent still is the important factor of the camping overnight-fulfilled the emotion of camping.
The location of camping: the garden connected the river, the river connected the cliff and the cliff connected the mountain.
The private set of our staff will set all the things for camping to make sure that "It must become to be the highest valued dinner night of yours."
After breakfast on the second day, we will take you to do the bamboo rafting and swimming on the nature river amid the safari.
We continue to discover the river, safari and mountain by elephant trekking.

---
Why Jc.Tour?:
Jc.Tour had registered for Tourism Company under the rule of Thailand Law: Both Outbound(31/01235) for around the world travel. Inbound(34/00235) for traveling in Thailand.
The right registration can be checked, and you can check for Jc.Tour at http://www.tourism.go.th
Jc.Tour is the Top Responsible and Great Service in TripAdvisor Rank.
Jc.Tour has been registering for Accident Insurance all around the world (Inbound: for travelling in Thailand and Outbound for around the world travelling). This makes sure that all the customers of JC Tour will be covered by Insurance in everywhere of the world they reach.
Before, During and After the service, you can contact us 24 hours.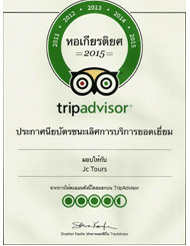 Telephone:
+66 89 5727603
Line: @jctour
Whatsapp:
+66 84 8053153
Snorkeling Trip
Canoeing & Cave Trip
Adventure Trip
Sightseeing Trip
Dinner Cruise
Transfer
Other Trip
2Days 1Nights Package
3Days 2Nights Package
4Days 3Nights Package