Tour Krabi, Krabi Tour, Day tour Krabi, Half day Tour Krabi, Excursions Krabi, all tours in Krabi
On the main land of Thailand Southern; The linked main road between Trang province and Krabi province is the location of Historical cave. In the part, the old people told that this is the place for "Dragon's family" .

There are many beautiful cave room inside, the weather and moistness with a small stream and connected to the sea inside the cave can tell that "the before time human", dragon or the other life can live.

Jc.Tour Krabi had tried very hard to set up the "Dragon cave tour package" for the tourist who is having holiday in Krabi to meet one day of "exploring day" on the holiday time.
The following is the detail with the highlight pictures those are in this package. Please see and read before submit the booking.
The amazing of Dragon Caves; There are 12 rooms linked from room to room. Our paddle guide will paddle the canoe explore to the myth area inside.
12 Rooms of Dragon Cave (Or sea cave Kop Hill) can be visited by canoeing; we use a high expert paddle guide to take care you inside. To make sure that your trip will be get the real fun.
High standard ATV camp at Sai-Thai; we provide the completed condition ATV. To make sure that you can drive it as high save and can pass the difficult event on the off road.
At our "Elephant camp" near ATV camp, we take car our elephant as good as possible and well trained Mahout. To make sure that all the elephant will be fun emotion to take you pass the real safari.
We visite the most popular temple of Krabi- Tiger Cave temple. And if you are sure your strent body, you can test it by walking up to the mountain pass 12 steps ladder.

---
Why Jc.Tour?:
Jc.Tour had registered for Tourism Company under the rule of Thailand Law: Both Outbound(31/01235) for around the world travel. Inbound(34/00235) for traveling in Thailand.
The right registration can be checked, and you can check for Jc.Tour at http://www.tourism.go.th
Jc.Tour is the Top Responsible and Great Service in TripAdvisor Rank.
Jc.Tour has been registering for Accident Insurance all around the world (Inbound: for travelling in Thailand and Outbound for around the world travelling). This make sure that all the customer of JC Tour will be covered by Insurance in everywhere of the world they reached.
Before, During and After the service, you can contact us 24 hours.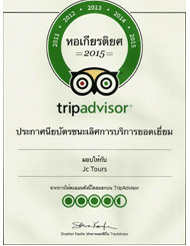 Telephone:
+66 89 5727603
Line: @jctour
Viber:
+66 84 8053153
Whatsapp:
+66 84 8053153
Snorkeling Trip
Canoeing & Cave Trip
Adventure Trip
Sightseeing Trip
Dinner Cruise
Transfer
Other Trip
2Days 1Nights Package
3Days 2Nights Package
4Days 3Nights Package