Tour Krabi, Krabi Tour, Day tour Krabi, Half day Tour Krabi, Excursions Krabi, all tours in Krabi
Top activities: (All excursions at Khao Lak & Phang-Nga) "If you love discovery, no reason to say no"

+ Bamboo rafting
+ ATV (1 hour)
+ Elephant trekking
+ Pung Chang caves discovery
+ Monkey temple (Golden Monk cave temple)
This top discovery trip is just for the people who love to discover the things and do the activities amid the virgin nature. So, please see the highlight of the pictures, if you love it, no reason to say now. Submit the booking for sure.
Bamboo rafting is the excursion in which you get excited to see the nature and classic relaxing on the raft amid the clear fresh water river. It can make your holiday time a top value. (No reason to say no)
In the unseen caves of Thailand, Pung-Chang cave is very exciting to get in. Every area of the cave will be full of nice pictures. "You never feel down to book this trip"
ATV at Song-Prak can be considered to be the best route for  ATV riding. The route must be passed both snake way in the jungle and water crossing way. It is very difficult but fun.
As the area of Phang-Nga bay is not too far from Phuket and still is a virgin safari, the elephant trekking here gets a more nice feeling of trekking. (Yes, we go for trekking not shopping, no any trade on the way)
Golden Buddha cave temple; you can have fun with many safari monkeys that come down from the mountain outside the cave, and get exciting discoveries inside the cave.

---
Why Jc.Tour?:
Jc.Tour had registered for Tourism Company under the rule of Thailand Law: Both Outbound(31/01235) for around the world travel. Inbound(34/00235) for traveling in Thailand.
The right registration can be checked, and you can check for Jc.Tour at http://www.tourism.go.th
Jc.Tour is the Top Responsible and Great Service in TripAdvisor Rank.
Jc.Tour has been registering for Accident Insurance all around the world (Inbound: for travelling in Thailand and Outbound for around the world travelling). This makes sure that all the customers of JC Tour will be covered by Insurance in everywhere of the world they reach.
Before, During and After the service, you can contact us 24 hours.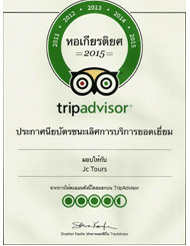 Telephone:
+66 89 5727603
Line: @jctour
Whatsapp:
+66 84 8053153
Snorkeling Trip
Canoeing & Cave Trip
Adventure Trip
Sightseeing Trip
Dinner Cruise
Transfer
Other Trip
2Days 1Nights Package
3Days 2Nights Package
4Days 3Nights Package