"Koh Pha-Ngan or Pha-Ngan island is the virgin destination for the tourists. Because of the island is so far from the main land, just a few tourists had been here before."
To go to Koh Pha-Ngan, you have to use both a long time on bus and a long time on ferry. The location of Pha-ngan island is in the middle of Thailand's bay. 2 Hours and half by Ferry from the mainland of Surathani Province (from Donsak pier)

Pha-Ngan island has been hidden from the world' eyes for a long time, 90% of island's area still be the mountains and reserved thick forest of the government, but surrounded with many beautiful beach bays such as Rin beach, Ban Kai beach, Ban tai beach, Thong Nai Pan beach etc. All of the beaches are the national marine park wich is strictly reserved by Thai government.

Full Moon Party on Pha-Ngan is the world class reputation, but more interesting things on Pha-Ngan island is relaxing on a very white sand of the virgin beach on the island.

Moreover, by a very strictly reservation of the government, the coral reef, a millions kind of fishes or the other marine life still be very beautiful and colorful, heaven of snorkeling.

"Virgin island, virgin safari, virgin beaches which was strictly reserved by the government"

Jc.Tour Phuket is very invite all the tourists who is going to have a plan for Long Holiday in Phuket or Krabi to visit this virgin island by book the package of 3 days 2 night package in Pha-Ngan

The following is the highlight pictures of interesting place which you will see in this package.
Wau Tah-Lap island is a small islets, just 15 minutes from Pha-Ngan by speed boat, we must stop to see this beautiful Island too.
Mae Koh island: Small island is 15 minutes by local long tail boat from Pha-Ngan. Yes, we take you there as well.
Samsao island: Sam-Sao means 3 beautiful girls, (all of them is very beautiful) Lagoon hidden in the mountain, unseen place. Discovery around these islands by Kayaking
Koh Wao: We let you discovery here by paddle the canoeing.
Crocodile show, elephant trekking; the activities which you have to do on this island, we included the price on the package already.
Phaeng waterfall; the small waterfall but very nature is in the thick forest.
Stay overnight at Sang Dow resort; On the beach resort which you can touch the sea both all night and all day (Just a few steps from your room to the beach. (The swimming pool is on the beach)
Itinerary:



Day 1




| | |
| --- | --- |
| 08.30 AM | Pick-up from your hotel in Phuket or Krabi. |
| 12.00 PM | Ferry pier at Don Sak, lunch |
| 13.00 PM | Ferry leave to Phangan. |
| 16.30 PM | Check in at the hotel. |
| 17.00 PM | Relax |




Day 2




| | |
| --- | --- |
| 07.00 AM | Breakfast at your hotel. |
| 08.20 AM | Pick-up from your hotel. |
| 09.00 AM | Board the speed boat to marine park. |
| 10.00 AM | Arrive "Wua Ta Lap island" (center of marine park) for climb up to mountain top to see fantastic panorama of marine park or swimming. |
| 12.00 PM | Arrive to "Mae Koh island" to see amazing emerald salt water lake surrounded. |
| 13.00 PM | Have a Thai buffet lunch at "Samsao island" and Kayaking to see wonderful nature of the park & stone bridge or snorkeling, swimming & relax. |
| 14.45 PM | Sightseeing around the park by speed boat. |
| 15.00 PM | Arrive to "Koh Wao" for snorkeling with a lot of fish, wonder coral & clear water. |
| 16.00 PM | Depart from marine park to Koh Phangan and transfer to your hotel. |




Day 3




| | |
| --- | --- |
| 08.00 AM | Breakfast at your hotel. |
| 09.00 AM | Pick-up from your hotel. |
| 10.00 AM | Exciting with dangerous show "crocodile show". Enjoy with elephant trekking feeding & take picture with elephant. |
| 11.00 AM | Visit "chinese temple" a beautiful temple with made in Chinese style. |
| 11.30 AM | Visit to "Phaeng Waterfall" enjoy scenery at "Dome Sila" view point and enjoy swimming waterfall. |
| 12.30 PM | Satisfy with delicious Thai set Lunch at "Mae Haad bay" |
| 14.00 PM | Finish the trip and send the customer back. |
| 15.00 PM | Leave from Phangan and back to Phuket. |
Price
10,500 Baht/Person (Minimum at 2 People booking)
** Make the booking Now - 31 October for any time using, get the special Price is just


- 9,500 Baht/person
This price includes:
Round trip transfer from Phuket; (VIP Air-condition High Roof Minibus + VIP Ferry)
Transfer from hotel in Phangan Island to the Trip
Crocodile Show, Elephant Trekking, Feeding Elephant
Lunch, Soft Drink, Snack
Professional Guide
Insurance
Strongly recommend: book 1 week before.
This Package is Real Adventure, are you ready? If so, Book Now.

---
Why Jc.Tour:
Jc.Tour had registered for Tourisme Company under the rule of Thailand Law: Inbound(34/00235)
The right registration must be checked, and you can check for Jc.Tour at http://www.tourism.go.th
Jc.Tour is the Top Responsible and Great Service in TripAdvisor Rank.
Jc.Tour has been registering for Accident Insurance all around the world (Inbound) This make sure that all the customer of jctour is covered by Insurance in every where.
Before, During and After the service, you can contact us 24 hours.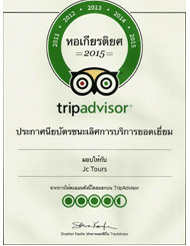 Telephone:
+66 89 5727603
Line: @jctour
Viber:
+66 84 8053153
Whatsapp:
+66 84 8053153
Snorkeling Trip
Canoeing & Cave Trip
Adventure Trip
Sightseeing Trip
Dinner Cruise
Transfer
Other Trip
2Days 1Nights Package
3Days 2Nights Package
4Days 3Nights Package